Here is one of the oldest and most spectacular lodges in Oregon.
Built in 1936, right at the timber-line on top of Mt. Hood, hence the name Timberline Lodge.
Here is a picture of the lodge being dedicated by President Franklin D. Roosevelt on September 28, 1937.
And here is the lodge in Winter. --Talk about being snowed in!
My Mom and us three spinsters stopped by there on our way home from getting apples in the Hood River area. We went from Fall to winter in one day. It was freezing cold up there and there was some snow already, but when we got inside it was nice and cozy with fires going in all the (huge) old fireplaces.
So, we decided to get lunch at one of the three restaurants they have inside.
It was called Ram's Head and was on the 3rd level.
The food was stupendous and the hot cocoa was, in a word, divine.
Gen took these pics.
Starting from the bottom...
Hot Chocolate
whipped cream
chocolate sauce
salted caramel sauce
bits of English toffee
a cinnamon stick
heaven.
This was ours (above)
This was one I found online (below) Chocolate sauce, baby!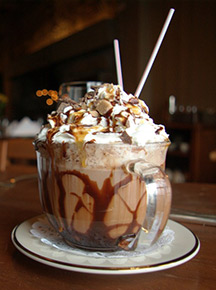 So, if your ever traveling in Oregon and you have good winter tires and a day to spare...
It is certainly worth seeing... and tasting.
Hope you're all having a wonderful November and getting excited for Thanksgiving Day!
I know I sure am!
Love,
Marguerite